It all started after a loss to Louisville in the last regular season game, during the 2013/14 season. Shabazz Napier scored just nine points that night. It would be his last single-digit game of his four-year stay at the University of Connecticut. The following week, the Huskies won two games and lost the third again against Louisville in the conference tournament. After a season with eight losses in 32 games, UConn was admitted into the NCAA Tournament as one of the No. 7 seeds in the bracket. Normally it means that if you are really good you can get to play during the second weekend of March, but with little chance of making it beyond the first hurdle.
UConn was sent to Buffalo for the first weekend of games and promptly defeated St. Joseph's. Napier scored 24 points and grabbed eight rebounds in that game. Two days later, a terrible opponent was going to be faced, Villanova, one of college basketball powerhouses. That team included future NBA players like Josh Hart and Ryan Arcidiacono, and an eventual EuroLeague veteran like Darrun Hilliard. It doesn't matter: Napier scored 25 points and added five rebounds, four 3-pointers, and went 9-for-13 from the field. That weekend in Buffalo, Shabazz was the best player on the court. A trip to the second weekend of the March Madness was guaranteed.
Shabazz Napier comes from Roxbury which is a small town practically attached to Boston. Anyone who comes from Roxbury is basically a Bostonian. At school, he went to Charlestown, a "blue collar" place immortalized in several movies made by Ben Affleck, who is from that area, for example "Will Hunting" starring another Bostonian, Matt Damon, or the television series "City on a Hill". Napier learned to play basketball in Roxbury's "No Books No Ball" program. After two years in Charlestown, he moved on to play at Lawrence Academy to straighten his grades and earn the right to receive a scholarship from a major college. Considering the physical skills, Napier was scarcely considered by the major colleges, until Jim Calhoun, one of the most relevant coaches of the last thirty years, changed everything. His assistants took him to see other players, but he was attracted by Napier's wit and speed. It reminded him of his star Kemba Walker. So, he decided to take him to UConn and prepare him to become his next great point-man.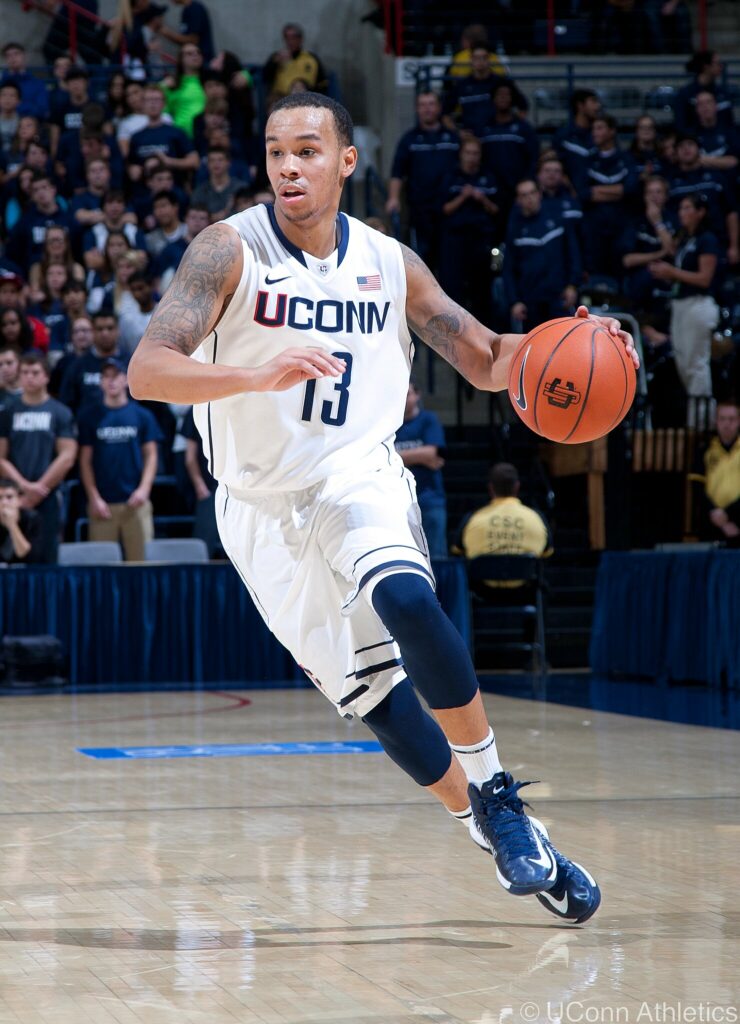 To play an NCAA Tournament game in New York's Madison Square Garden is special. It is like running the final stretch of a marathon in the old Olympic stadium in Athens, like racing cars in Indianapolis, playing football in Green Bay or kick a penalty at Wembley. For the UConn Huskies, however, the third round of the 2014 NCAA Tournament seemed to resemble an impervious ascent. Iowa State, a Top 10 team all year long, a number 3 seed, was waiting for them, with current Washington Wizards point guard Monte Morris and future EuroLeague players such as Matt Thomas and our own Naz Mitrou-Long (in addition to Dustin Hogue and Melvin Ejim). But UConn, despite the odds, dominated that game and even built a 16-point second half lead before manging to win by five. Napier had 19 points, five assists, 4-for-6 on three-point shooting. By beating Iowa State, UConn reached the so-called regional final game, or the quarterfinals, which means being one win away from reaching the Final Four, nonetheless.
During his first season at Connecticut, Napier had been and excellent backup to Kemba Walker. UConn won the NCAA championship, Coach Calhoun's third, by beating Butler University, led by Shelvin Mack, in the final. Walker was the MVP, the great star of those Final Four edition, played in Houston. Napier had the usual role in the championship game, staying on the court for 27 minutes, with four points scored. But two nights earlier, when UConn defeated Kentucky to advance to the title game, UConn had had to prevail in a very close battle. With eight seconds left, Napier, by making two free throws under the watchful the eyes of the entire United States on, had opened a four-point lead, making the last Wildcats possession irrelevant. It was 2011. The first moment of national glory for the very young Shabazz. Like they say in the NCAA it was "one shining moment".
To make it to the 2014 Final Four one last win was needed in Madison Square Garden, in a favorable home-court away from home situation, since UConn is much closer to New York than the team faced in that game, Michigan State, led by Gary Harris, currently at the Orlando Magic. The Spartans led throughout the first half, but Shabazz caught fire early in the second half. He made jumper after jumper (he finished with 17 second half points) and put the Huskies ahead. Michigan State responded. With 50 seconds to go, the Spartans came back within two. Using a high screen, Napier moved toward to the right elbow where he got up and made another mid-range jump shot to extend the margin to four points. Michigan State answered again. Then, after holding on the ball for about thirty seconds, Napier went up to shoot a three, but Michigan State's point guard Keith Appling contested too hard, made contact, and was called for a shooting foul. Simple as that. Napier made his three free throws to finish with a game-high 25 points and the Huskies' triumph. Three years after Napier's first trip to the Final Four as a backup point-man, he was back on college basketball's most prestigious stage as a big-time star.
With Kemba Walker on to the NBA, Napier was elevated to a starter role by Calhoun after the first NCAA championship run. He had a very talented team around, particularly he had Jeremy Lamb and center Andre Drummond, two future NBA players, to rely on. The latter is one of the best rebounders of the last decade. But Napier's sophomore season was a complicated one. He did not meet the expectations. The numbers (13.0 points and 5.8 assists per game) weren't bad, but the team's performance on the court was mediocre at best. UConn lost 14 regular season games and finished a disappointing ninth in its conference. Meanwhile, two terrible things happened. The coach who had recruited him, Jim Calhoun, decided to retire, and the program was banned for one year from postseason play for academic irregularities. Napier and his teammates were doomed to a second-rate season. The team was inherited by Kevin Ollie, a former very good point guard, but in his first season as head coach, the Huskies finished 20-10 and could not participate in the NCAA Tournament. However, it was a rebounding season for Napier who averaged 17.1 points and 4.6 assists per game. The conditions were perfect for say goodbye and leave college a year early.
The 2014 Final Four took place in Dallas. UConn was paired with Florida in the semifinals. The Gators had Dorian Finney-Smith, now in Brooklyn, they had Scottie Wilbekin, now at Fenerbahce, they had Patric Young among others. They entered the game with a 36-2 record, and a 30-game winning streak. Plus, they started the game 16-4. It seemed like the prelude to a one-sided game, but Connecticut responded with an 11-0 run in less than three minutes and didn't need any heroism to win that night. Not even from Shabazz, who scored 12 points in 38 minutes with six assists and four steals. The Huskies defense made the difference and Connecticut won by ten. Three years later the last NCAA title won, the Huskies were back in the ultimate game.
Napier seriously considered trying the NBA path after his junior season. But the new Huskies coach Kevin Ollie made sure to establish a close relationship with Shabazz. And besides, he felt like he owed to Connecticut. It was the school that had wanted him, that allowed him an escape route for him and his family (his single mom raised three children, Shabazz is the youngest), it was the school that allowed him to win an NCAA championship as a freshman and had not hesitated to support him after a limping sophomore season. Right now, with a semi rookie head coach, after being banned, UConn needed Napier more than Napier needed UConn. So, he remained. 
Twenty-two points. Four threes out of six. Six rebounds. Three assists. Three steals. Thirty-nine minutes on the court. Shabazz Napier on Monday, April 7, 2014, in Texas, lived the biggest night of his career. As his teacher Kemba Walker had done three years earlier, with the same jersey, he had overcome the limits of his height and size to dominate the most important game of the entire college basketball season. He had already been named conference player of the year, first team All-America and had won the Bob Cousy Award as the best point-man in the country. But the biggest trophy was missing, and he took it against Kentucky, the same opponent against whom three years earlier he had scored the clutch free throws to win the semifinals. Kentucky was built around Julius Randle, an NBA All-Star currently with the Knicks. UConn led for the length of the game that night. In the second half when Kentucky came back and was just one point behind, Napier with a huge three ignited the final run.
In 2014 UConn became the lower-seeded team to win the NCAA championship since 1985 (Villanova). Napier used the world stage for an appeal that made a lot of eventual changes possible. Shabazz pointed out how his play, and that of many more players, for four years, had earned the NCAA and UConn millions of dollars in television rights, tickets, advertising, merchandising. Not a single dollar had gone to him. So far, that was a known concept, not at all new. But Napier added that under those conditions there were NCAA-sanctioned student-athletes who didn't know how to buy themselves a meal outside of school meals. And he wasn't speaking metaphorically. He meant literally. A full-scale controversy was unleashed, because this time – and Napier was evidence of this – the situation demonstrated was far beyond beyond the limits of decency (now there is a program in which college athletes can earn through the personal use of their name, likeness, and image). 
After winning the NCAA championship, his college eligibility exhausted, Napier entered the NBA draft. Charlotte selected him but on behalf of Miami. That evening LeBron James welcomed him among his teammates, indicating Shabazz as his favorite point-man of the draft and then adding that there was no way to draft another point-guard before him. All well documented on Twitter. In the NBA, Napier has played for five years, in Miami, Orlando, Portland, Brooklyn, Minnesota. 345 games played; 2.433 points scored. In his final NBA season, he averaged 10.3 points per game and 3.8 assists per game. He averaged 17.4 minutes for his career. There's been only season, his first in Portland, that he averaged under ten minutes per game. He also played for the Puerto Rican national team (Carmen, his mom, is Puerto Rican) with 35 points in two games, 12 assists and six 3-pointers. Opponents were Bahamas and Mexico at the 2021 Americup. In St. Petersburg, where he had found Alex Poythress, one of the members of the Kentucky team beaten in the 2014 NCAA final, he scored 33 points in the semifinal of the VTB Super Cup before getting injured the next day and sitting out for months without being able to make his debut in the EuroLeague (the Russian-Ukrainian conflict stopped the St. Petersburg team when he was ready to go). Earlier this season, he was playing in Mexico, but in the G-League, then Olimpia called. And he responded.